No Tox Life
Regular price
Sale price
$45.00 CAD
Unit price
per
Sale
Sold out
NEW updated formula with bigger, fluffier bubbles and stronger grease cutting in all water types. 

The DISH BLOCK® concentrated dishwashing soap is a cleaning powerhouse with a rich, sudsy lather. Cuts stubborn grime and grease on dishes, pots and pans. With added aloe vera to be gentle on your hands. Free of dyes and fragrance.
You can even use it for cleaning-duty all over your home. Take stains out of laundry, take labels off of jars, spot clean your carpet, use it to wipe down ovens... a truly multipurpose product.* 

Each 22.5 oz (638g) bar of DISH BLOCK® dish soap concentrate goes a long way.

Recommended: Pair with the CASA AGAVE™ dish brushes, and a Moso Bamboo Soap Shelf to keep it drained and dry between uses. 

Need a larger amount? Check out our discounted bulk box here. Or see our pack of 4 bars discounted here. 

Here is the regular size bar.
How to use: Scrape dishes to remove excess grease and food. Wet brush, for plates, bowls and cups, and rub DISH BLOCK® dish soap to create rich, fluffy suds. (Repeat as needed to refresh suds.) Wash items and rinse well. Works in all water types including hard water.
Pro kitchen tip: Use the same DISH BLOCK® dish soap suds to clean your sink - this can be used on porcelain, stainless, and glass sinks. We have seen customers use it to clean dirty & stained oven top surfaces as well! 
Made with biodegradable, vegan ingredients.
Vegan. Phosphate-free. Sulfate-free. Paraben-free. Fragrance-free. Gluten-free. Cruelty-free.
Septic safe, biodegradable.
Made without palm oil.


Warnings: This product is not meant to be cut. It is a very solid bar. It is not able to be cut into smaller pieces safely.  Do not leave sitting in a pool of water, it needs to stay drained and dry between uses. 

*Test in an inconspicuous spot for new materials you wish to use it on to ensure compatibility. Not recommended for delicate fabrics, with naturally dyed products or for use on porous stone surfaces such as granite, quartz or marble. We do not guarantee compatibility with all materials.

(There will be imperfections, chips, cracks, fissures and roughness on the bar and rough variations on the surface, this is normal.)

Large DISH BLOCK® dish soap bar - approx dimensions:
length 10 cm | 4 inches
width 7.5 cm | 3 inches
height 9 cm | 3.5 inches

by No Tox Life

DISH BLOCK®, DISH WASHING BLOCK® and ZERO WASTE DISH WASHING BLOCK® are internationally registered trademarks of Earth & Daughter, LLC

View full details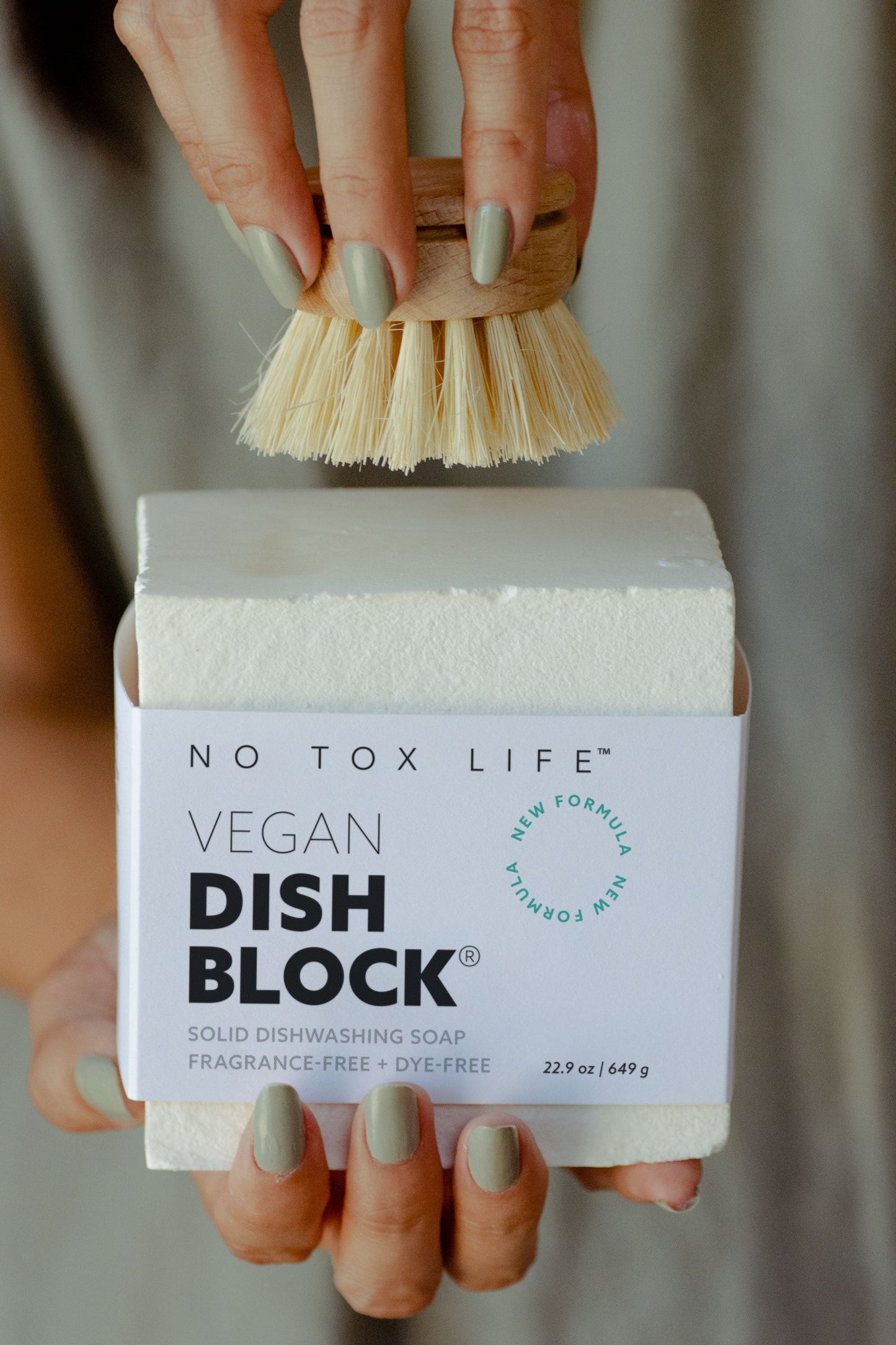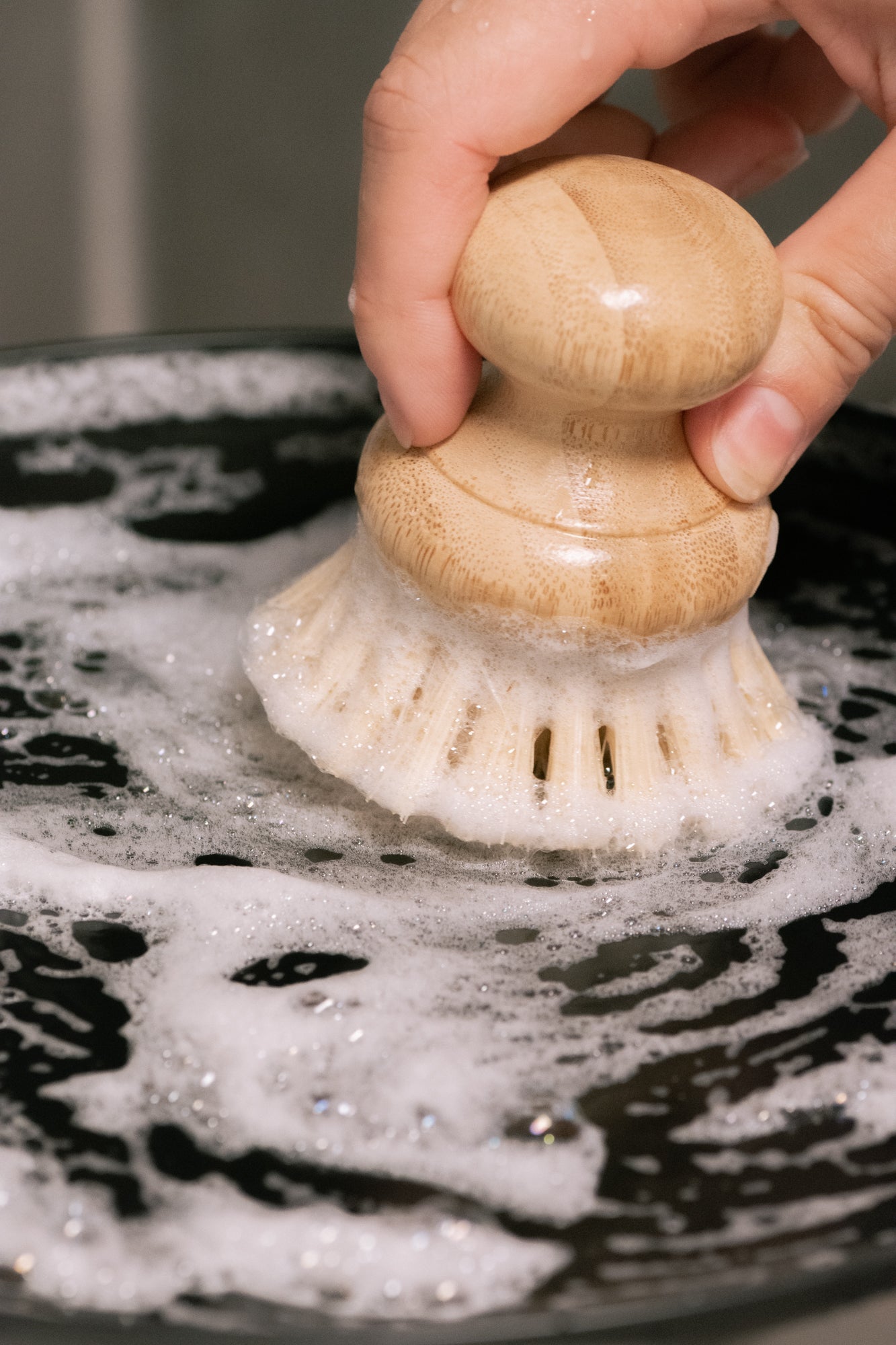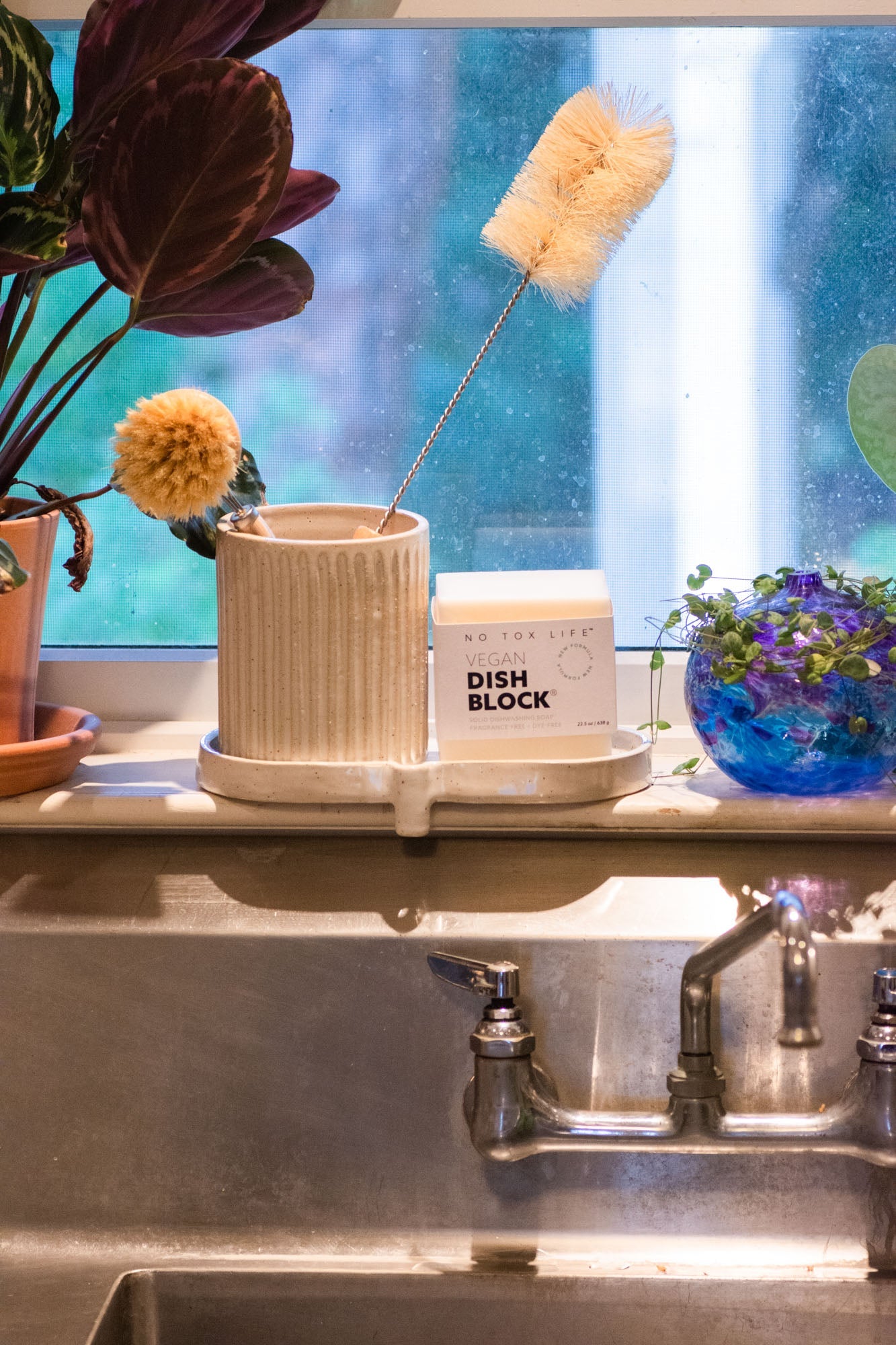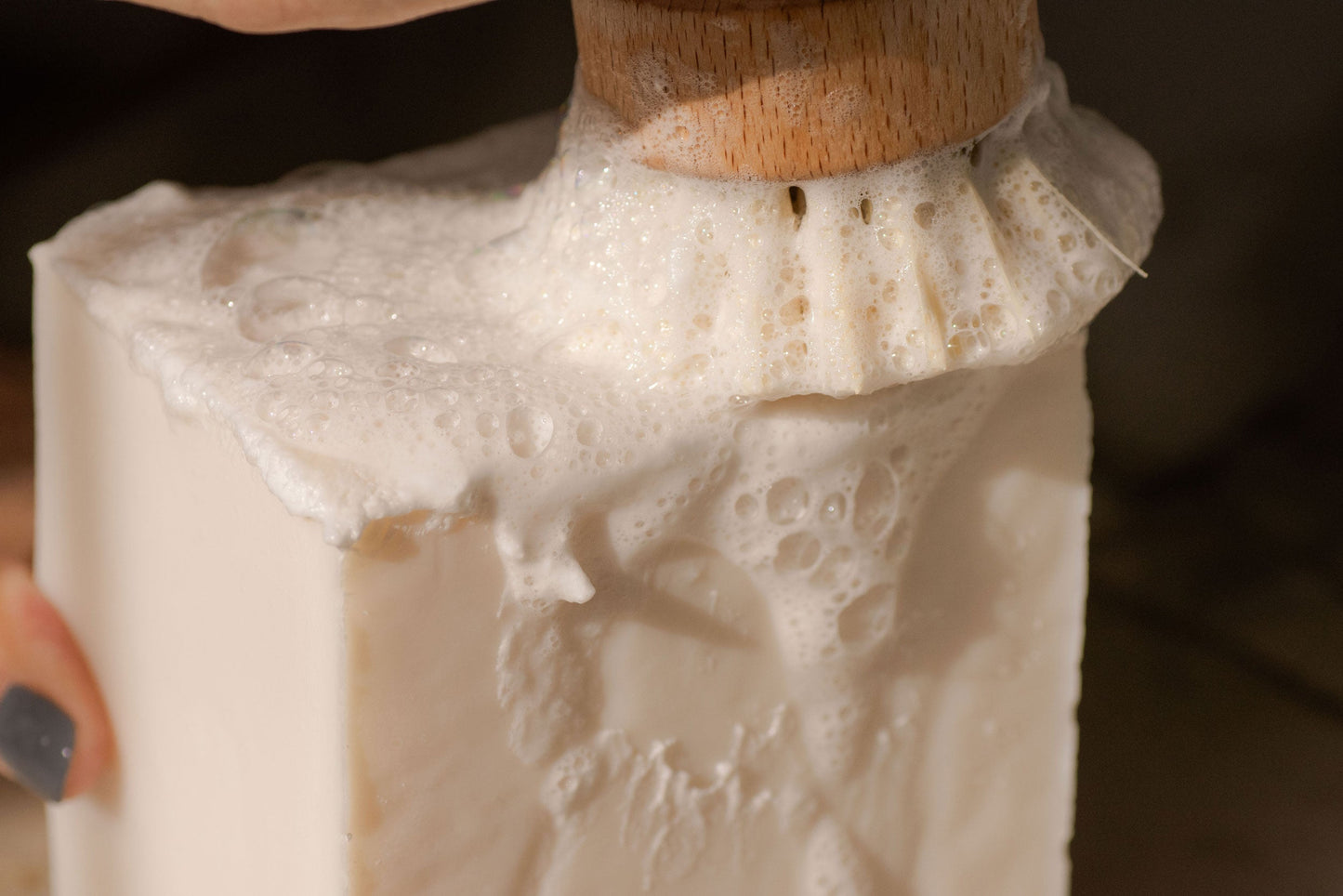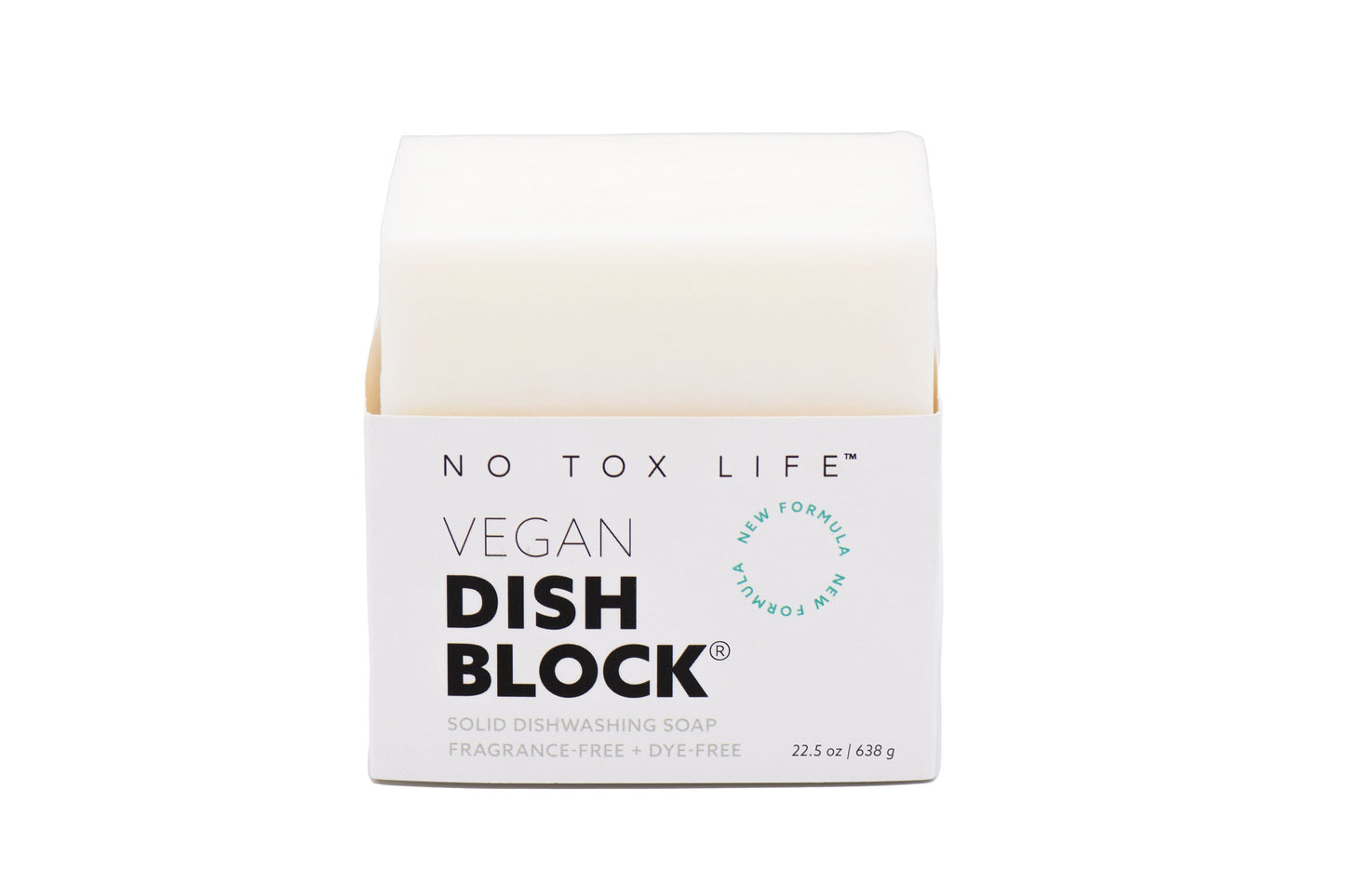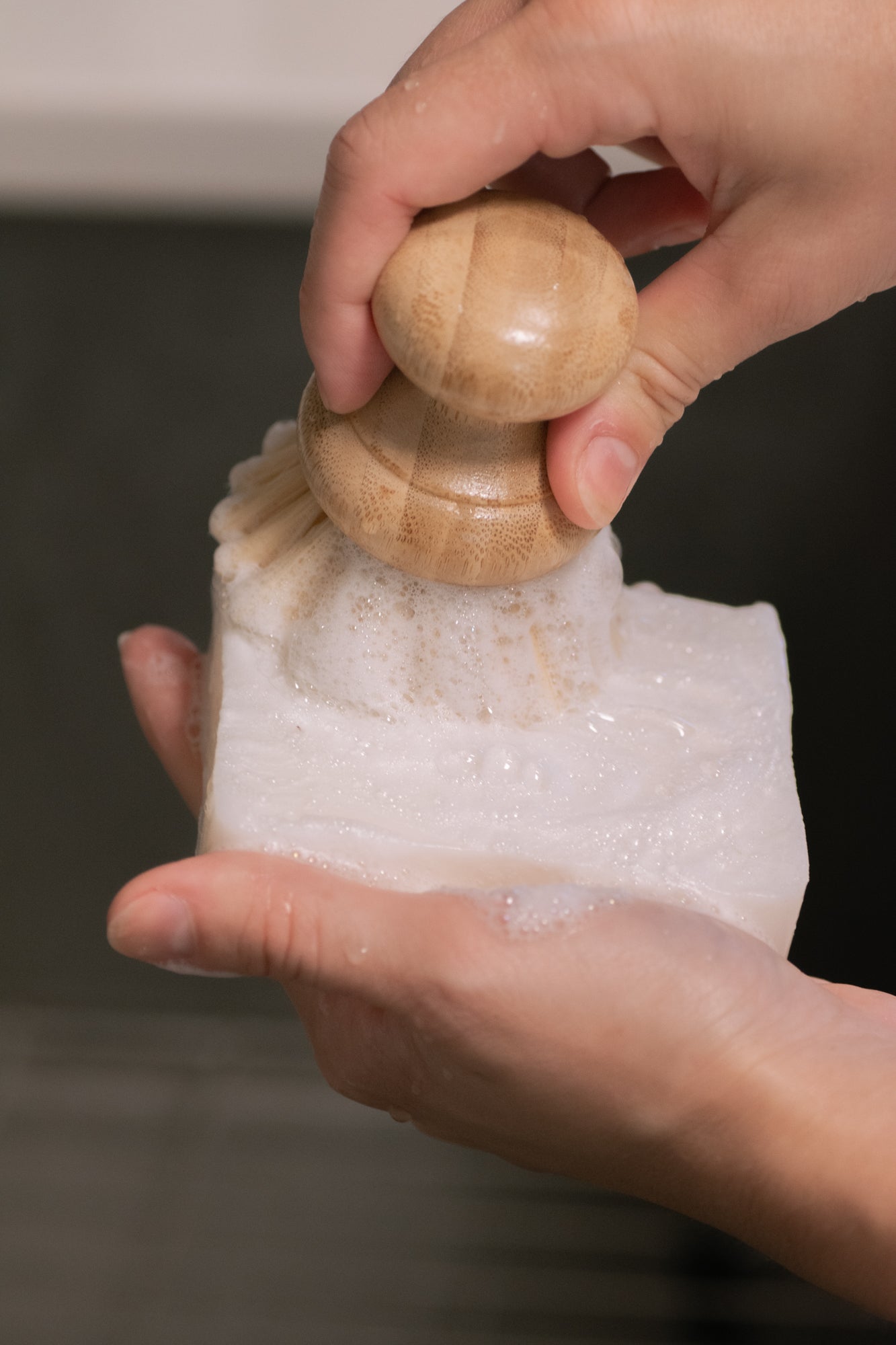 About the ingredients
Ingredients & Definitions

Ingredients: Sodium ester salts, sodium salts, cocoyl (plant-derived cleaning agent) alkyl sulfonates (cleaning agent) alkyl polyglucosides (plant-derived cleaning agent) sodium carbonate (mineral-derived cleaning agent) potassium cocoate (plant-derived cleaning agent) vegetable glycerol (skin protectant) quillaja saponaria* (plant-derived cleaning agent) aloe vera leaf* (skin protectant) sodium citrate (pH adjuster) sodium gluconate (chelating agent) sodium benzoate (preservative) purified water (solvent) * denotes organic ingredient
I feel compelled to write this review, and here's is why….
I have always used Dawn dish shop as it works well and removes grease as best as any, so I was skeptical in trying the No Tox dish soap. I know not why as I have used their deodorant for years and it works famously, as do their other products, so I ordered.
Let's cut to the chase. This soap does all the Dawn can do and more. Firstly, it completely removes the raw egg smell from bowls, post scrambled eggs, something no others could do. But here's the kicker. I have espresso machines, big espresso machines, and nothing will remove the coffee grease short of TSP base cleaners. The portafilter, basket and shower screen all go in for a fifteen to twenty minuet soak and then a good scrubbing. And yes, TSP is not awesome for the environment.
I was cleaning one of my machines and sadly, I forgot my cleaner. But lucky me, I had a chunk of No Tox dish soap and the scrubbie brush and I thought I would try. So here is where the magic comes in. Not only did it remove the espresso scum, it did it quickly and with limited scrubbing. I was stunned. So that's it, no more Dawn and surly, no more TSP. I'm happy, the environment is happy, my daughter is happy, my hands are happy. (TSP will suck every bit of moisture from your skin.) So there you go...
Awesome
Absolutely love it! I wash more dishes by hand now. Cleansing so good too!
Love it!
Cleans really well! No plastic!!
Efficient soap dish
This is the second time I buy it, the first block lasted almost 6 months, isn't that amazing?
It is used in a daily basis, great for any type of cutlery and dishes. Very important though to roughly rinse it off of glassware to avoid any soap marks to be left. Very good for washing dishes with oily food, it leaves it so clean with no need of using hot water. It doesn't dry my hands.
Best dish soap ever
I have been using this dish soap and other products from no tox life and i'm very satisfied with the quality (takes the grease off the dishes well and very soapy) the fact that the ingredients are safe for my skin, and plastic free. I even use these soaps to clean my shower and bathroom sink. thank you for making these products and continuing to offer them in bulk boxes at a very reasonable price. Your company has completely changed my house cleaning practice!
Do your self a favor and just get the bulk box
This bar soap has changed our lives and I will even go as far to say our marriage. The BEST dish soap - better than name brand toxic soaps. My husband loves it to wash his hands, prefers to hand wash dishes because of this soap and if you don't have a second in your laundry room to get out any and all (old and new) stains, you're not doing stain removal. Worth its weight in gold and a forever customer base in this home.
Fantastic alternative to liquid dish soap
This solid dish soap is excellent! It has made our switch from liquid dish detergent to something that is both local and free from single use plastics incredibly easy.
A little goes a long way, it removes grease easily, and there is a ton of lather -- even a bit too much sometimes! It arrived in brown paper packaging and fits perfectly in the bamboo holder sold on their site. If you're trying to make the transition to a more zero waste and cruelty free kitchen, this is a solid (haha) choice.
Essential and excellent!
Been using this for four years or so! Cleans great, one huge bar lasts us one year (we also have an 18" dishwasher). Love that it has no fragrances and after using this can't stand the smell of liquid detergent. Please don't ever discontinue this soap!!!
Disappointing
I love the idea of this and really wanted to like it. Unfortunately it didn't work for me. Doesn't cut grease and the dishes never seemed clean after using it. Didn't last as long as expected either.
the dish block lasted forever!!!!
I've been using this dish block for the better part of 8 months, without needing to replace it! i'm amazed! placing a reorder now. Super happy to have a zero plastic, zero water waste dishwashing option, and love that I can trust this block is made with nontoxic ingredients.