No Tox Life
Regular price
Sale price
$7.98 USD
Unit price
per
Sale
Sold out
NEW design brush. Fits BOTH replacement heads perfectly - this brush is completely interchangeable with both brush head styles. 

Works with:
New brush design head
Old brush design head

About the new brush design:
The new brush has longer bristles and a thicker bamboo head that is less prone to cracking. It is designed to last longer and create more suds when you wash dishes. The handle features a nicer hook that can be more easily hooked in various places in your kitchen. It is faster to replace the head (no more pliers needed) as the metal clasp is shaped better. 


Moso bamboo brush, with stiff agave fiber (vegan) plant bristles. New design! Still fits our earlier design heads.

CASA AGAVE® sustainable dish brush swap helps you replace plastic dish brushes in the kitchen!
This removable-head dish brush has a Moso Bamboo handle and brush head, with stiff agave fiber (vegan) plant bristles. It is held together with silver metal wire, and includes a small wire loop at the end for hanging dry.
Replaces: plastic handled dish brushes. Can be used to wash general dishes as well as to loosen stuck on food. 
Longevity: Each brush head can be used for months. Make sure to not submerge or soak the wooden parts in water. Hang to dry or place in a dry spot after using it.
If you find your brush head is not staying dry, dip the bristles in vinegar occasionally to help kill bacteria. The wood and bamboo are naturally antibacterial but the vinegar will help too.
Continue using this brush until the bristles no longer work or the brush head falls apart, then compost or bury in garden or dispose in a green waste bin. Stop using the brush and replace it if you see any mold growth.
Storage and Care: To reduce cracking, keep the bamboo parts dry and do not soak or submerge them in water. Cracking is normal for brushes over time. They are biodegradable and won't last forever like plastic!
The brush head is fully replaceable so when it is worn out, slide it out from the metal wire and replace the head. Keep reusing the handle until it is worn out. Don't apply undue pressure on the handle or it will break. 
Replacing the brush head: Squeeze the wires together, loosen the metal grip, and pop off the brush head. Just slide a new brush head on and replace the metal grip that holds it tight.
End of life: Once worn out, the bamboo and agave parts can be composted or buried in the garden, the silver metal parts can be recycled. The bristles are held in with small metal staples so you will need to fish those out of the compost or garden soil later.
Why it matters: Plastic bristle brushes shed tiny pieces of plastic called micro plastics. Unfortunately these tiny plastic pieces are not filtered out fully by sewage treatment. So when you hear about the "Great Pacific Garbage Patch" the majority of this garbage patch in the Pacific Ocean is actually tiny pieces of plastic that aren't even visible to the human eye.
These tiny plastic pieces are being eaten by marine animals and ending up in the food chain, being consumed by humans in sushi restaurants around the globe! And if you're vegan, they are ending up in our tap water too. Help us turn off the plastic tap and choose a more sustainable option for humans and the planet. 
Sustainability: The Moso Bamboo we use is a fast-growing grass and is not the type eaten by giant pandas. FSC certified by TÜV SÜD Czech, Prague.
Agave Fiber: CASA AGAVE™ agave fiber bristles are grown, harvested, sun-dried and processed in Mexico using traditional techniques to ensure a high quality and strong natural fiber. 

CASA AGAVE® is a trademark of Earth & Daughter, LLC
View full details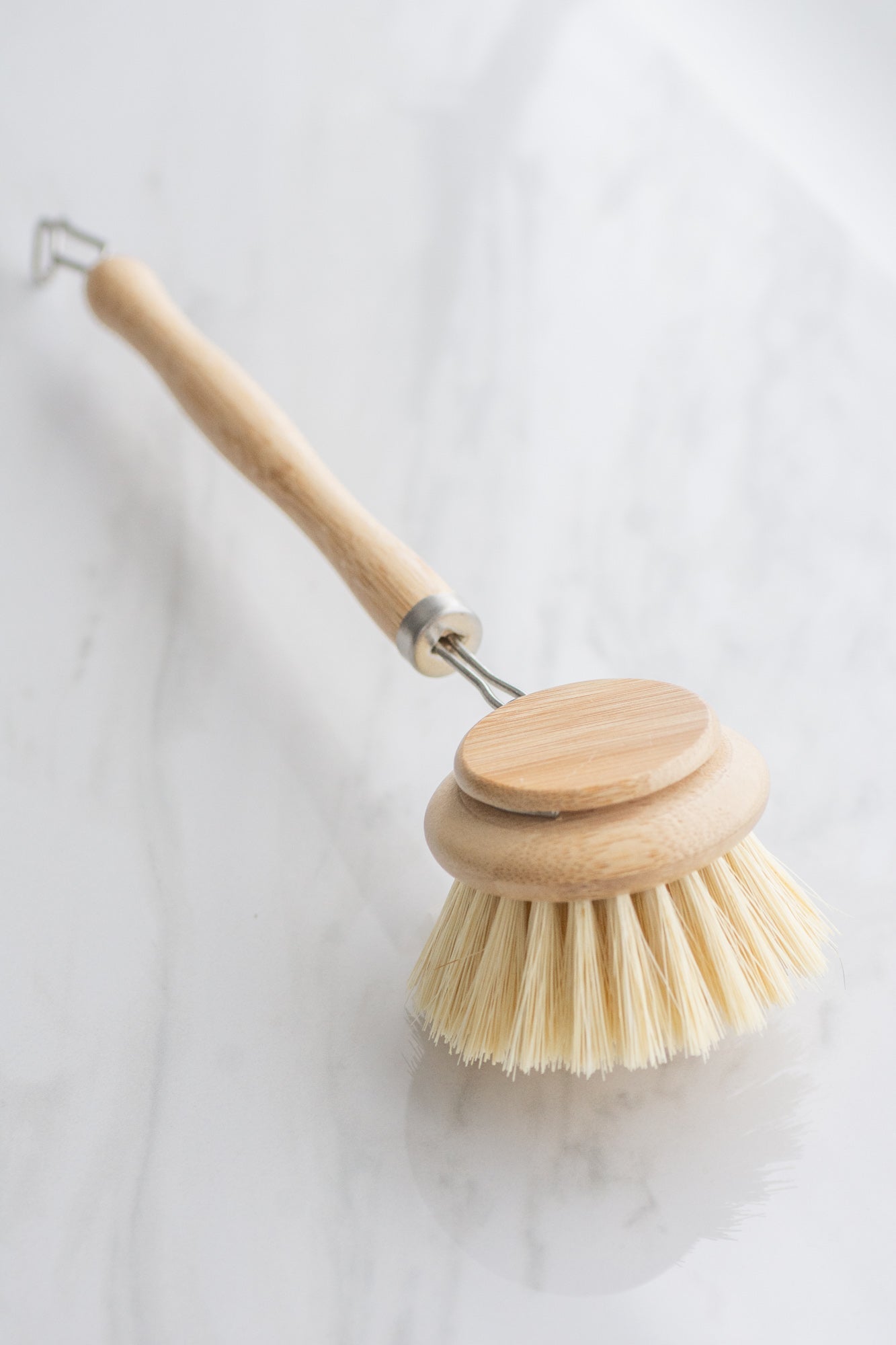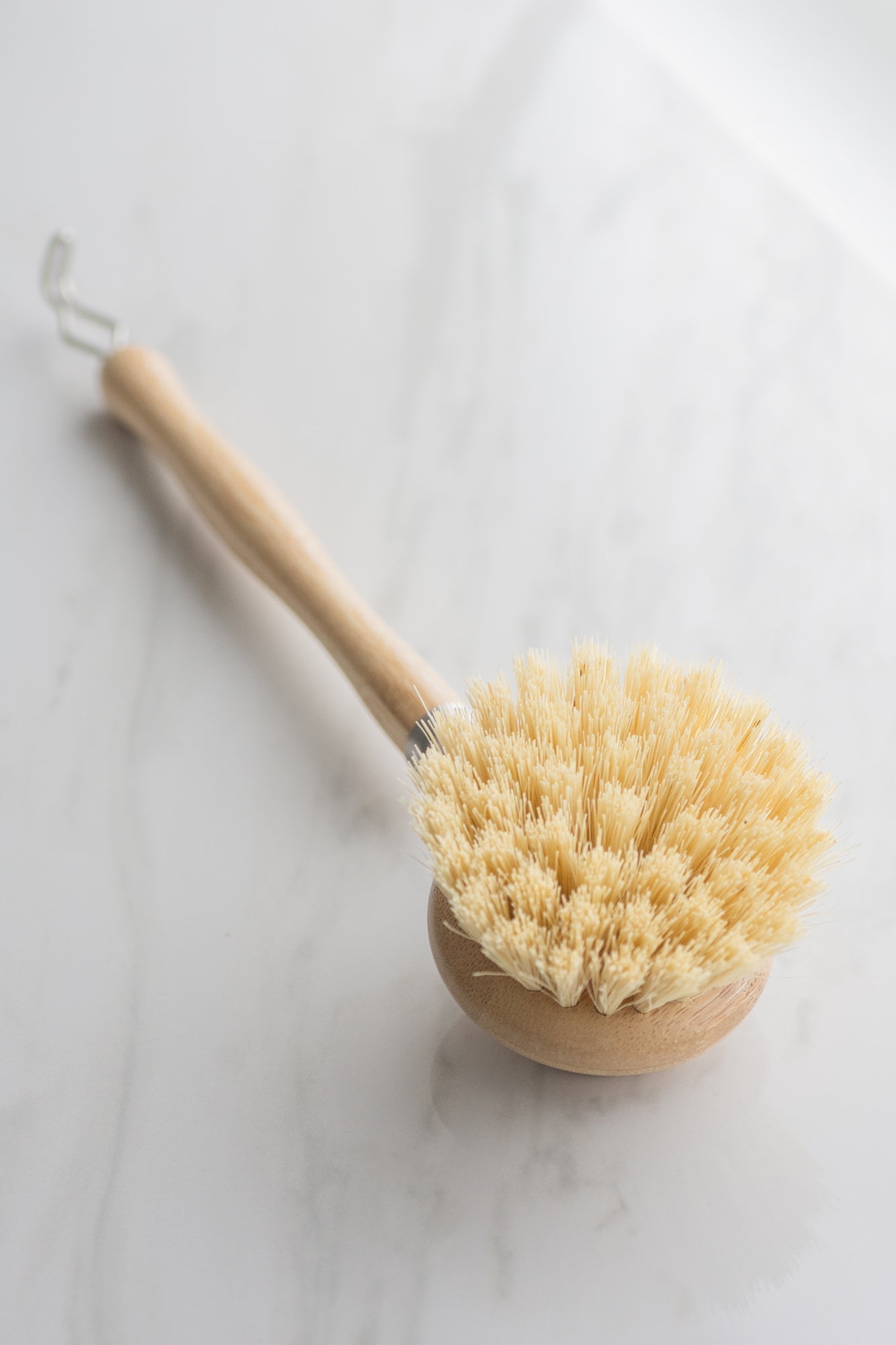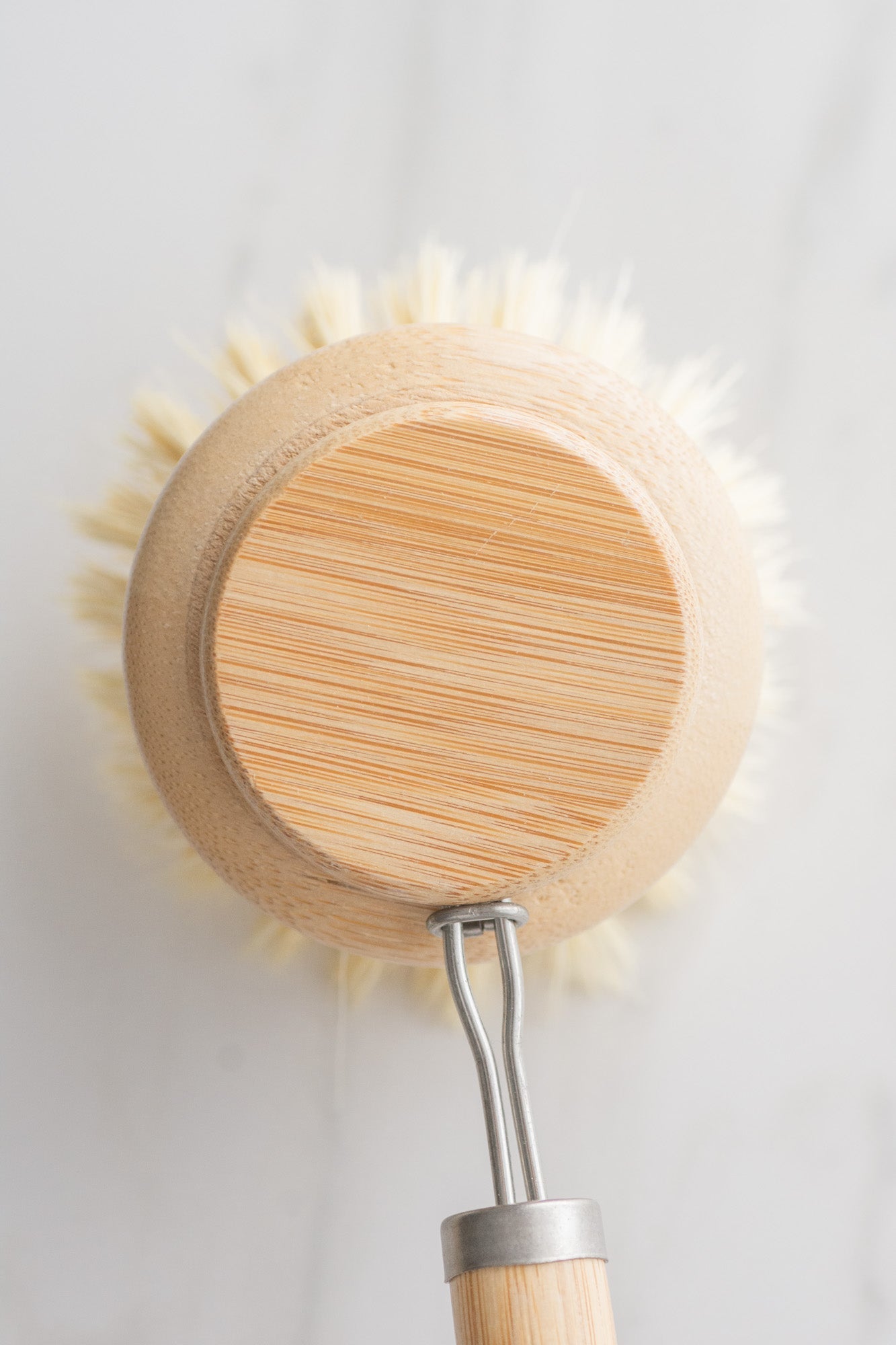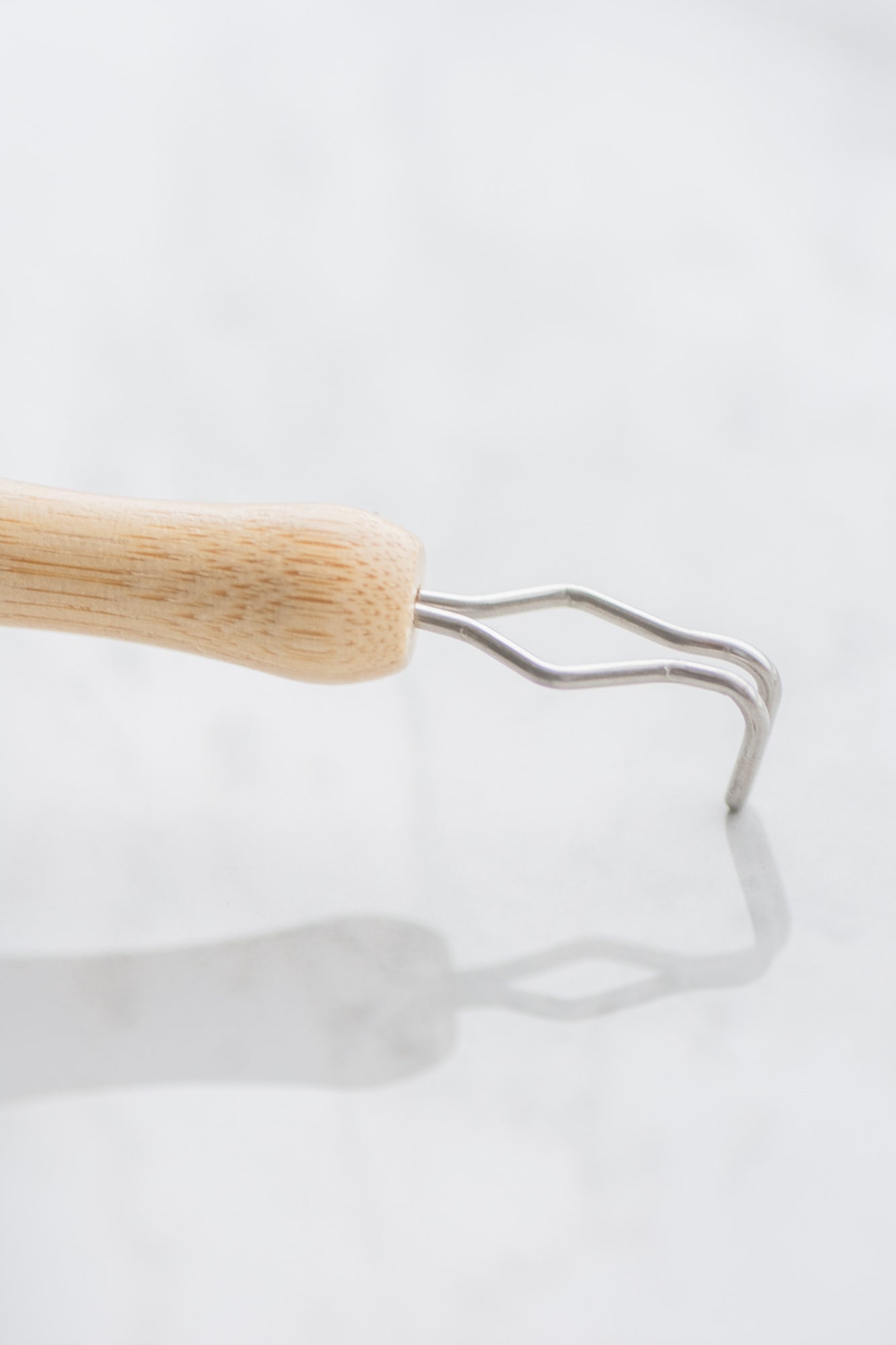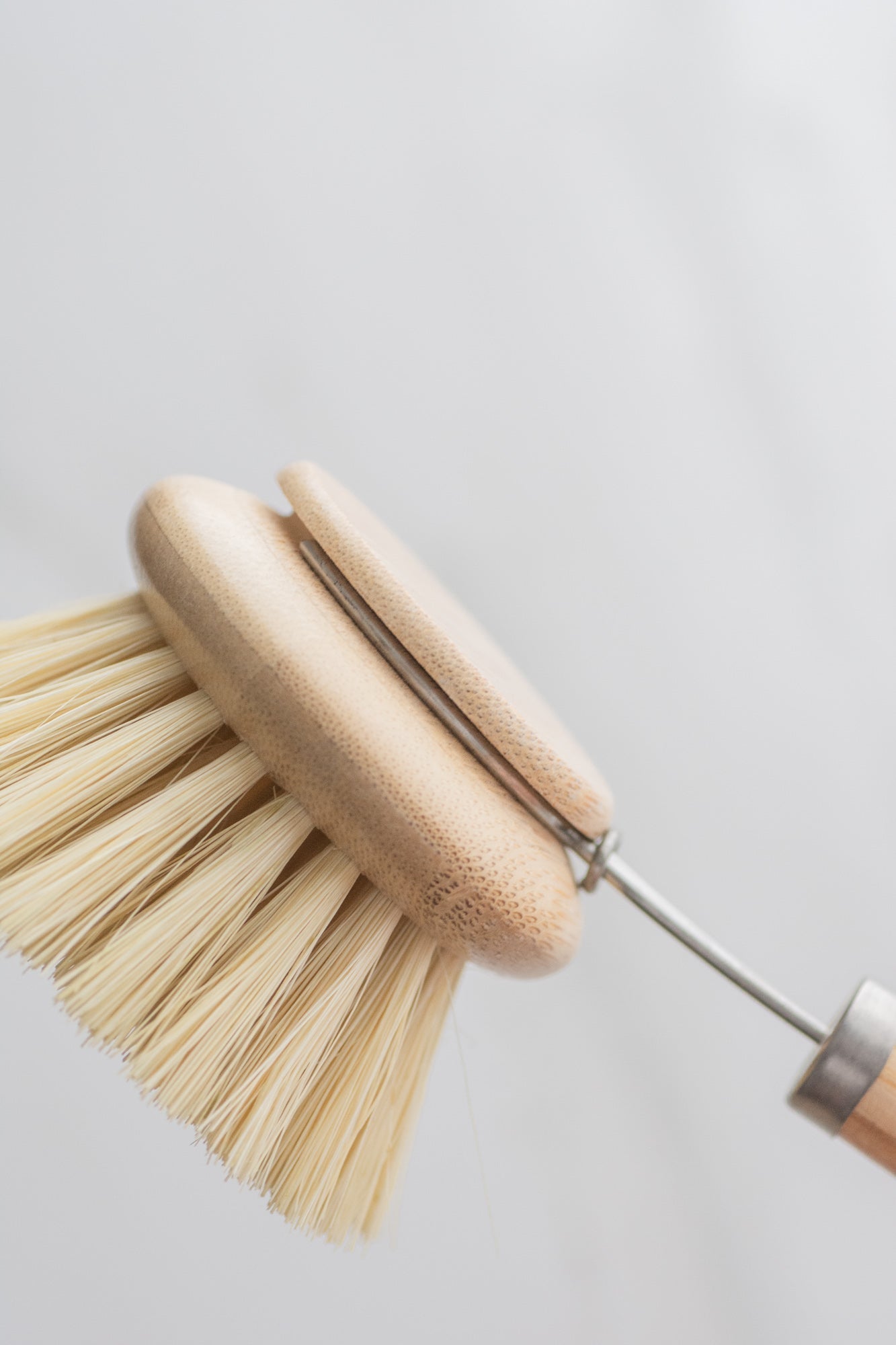 About the ingredients
Ingredients & Definitions
metal clasp
I've been happy to use this brush for a long time, it's durable, great quality, great price. The new ones have longer bristles. Unfortunately for me it's difficult to close the metal clasp.
Hi Zoi, try using a metal fork to slide the clasp up if it's not working easily with fingers.
Awesome
Personally use the little hand held one way more, but this is a good alternative. We use both. LOVE our dish bar too!!
Durable!
The agave bristles are strong and have lasted for a while. The only suggestion I would make is to modify the shape of the handle and bristles so it's easier to scrub the bottom edges inside of bowls.
Great alternative to a sponge
I've been using this brush for almost 2 months now. It does great washing dishes as well as pots and pans.
It also did great at helping remove a stain on an article of clothing. Used the brush very lightly with some No Tox dish soap bar. Stain came right out!
Enjoying all the products
My son sent me the links to all the products he uses in his kitchen. The Casa Agave brush being one of them.
We love using it and will be ordering more for our family as we love our "No Tox Life" products.
Great Brush to clean dishes and clean stains
The brush is great for cleaning dishes, pots and even getting stains out of clothes! I plan to buy another real soon.
Durable
I've been using the dish brush for about 3 months so far, and there's plenty of life left it. The bristles have maintained it's integrity with minimal fall out despite how rough I am with it. The handle hasn't cracked yet. A prior dish brush from another brand cracked very early on, within a month. It's my go-to when washing dishes and pots.
Barely Use
I barely use this brush because the angle of the brush head is quite inconvenient and makes it difficult to actually clean dishes. The brush head is at a 90 degree angle from the handle, so it really can't reach the bottoms of bowls and pots. For the sides of bowls/pots, I either have to awkwardly angle my wrists to get the bristles to have good contact or I have the lay the bowl/pot on the side. The only dishware/cookware the brush seems to be good for are plates and pans, which I'd rather use another type of tool for.
Dope brush!
I reaLly love my casa agave brush! Its a great addition to my cleaning products ♡
Great brush
This is a really nice brush! The bristles are just the perfect firmness. I will order again for sure!